Arabian Nights
John Frederick Lewis
So after a little break I return with a post on Orientalist art – always a contentious issue. Orientalism emerged at a time when European countries – France and Britain in particular – began asserting their dominance over North African countries, the Middle East, and India. Most Europeans would never have an opportunity to see these countries and consequently they became something of a fascination for many a European mind. Artists and writers began to illustrate these exotic lands, depicting beautiful women draped languidly across silken bolsters, or sitting nude beside a communal harem bath without any hint of self-conciousness. Some of the artists never set foot in the East, others (male at least) would never be permitted access to a sacred harem.  Thus, this is stuff of the imagination.  There were of course female accounts of life within these places, but they were rather more tempered than what we see in the visual portrayals.
The bustling market place was another popular theme, as was the depiction of the splendid and deeply artistic architecture of the East. Certain artists were exceptionally adept at this latter genre, such as John Frederick Lewis.  The East was seen as the female counterpart to the masculine West; the necessary ying to the West's yang, the missing piece of the puzzle. Hence, it was depicted as dreamlike; sumptiously, delightfully, feminine; irrational, and chaotic but sensuous. One must remember that Orientalism was at its height during the rather oppressive Victorian era, where women generally dressed in claustrophobic corseted, high-necked attire and were expected to adhere to strict behavioural codes. In contrast, these Eastern women wore luxurious, colourful, loosely fitted and diaphanous clothing.  Rather than perching on the edge of hard back chairs, they (apparently) spent their days lazily wiling away the time, lying across heaped up cushions whilst dappled light poured through the latticed shutters, dancing across the marble floors. Slave girls would bring them sweets, fruits and tea, and fan them in the heat of the midday sun. Within the Victorian context the attraction for the imaginative portrayal of the East is perhaps understandable. The western world was probably looking for some escape from its own self-imposed rationality, imperious nature and puritanism. Some Orientalist art does step into the realms of voyeurism, reducing these women (who happen to be white to suit French tastes of the time) to objects of desire. The art of Gerome, Ingres and Delacroix (all French) illustrate this point.
It was Edward Said in the 1970s who famously and vehemently opposed Orientalism, going so far as to ignorantly accuse all orientalists, or those interested in the East, of racism.  Until recently it was seen as taboo not to agree with Said, perhaps for fear of being placed in the same category as the Orientalists. Though his work is important, his approach is strongly biased and often academically unsound. The artists in question were all individual personalities. They had different reasons for painting the 'Orient'; some, like Lewis, came to show a preference for the East. Whilst in Cairo, he chose to live and dress in the manner of the wealthy locals, albeit with only one wife. Other zealously Christian artists went to the East with a missionary purpose. Many were just seeking to make a living from what was a popular artistic genre. Much Orientalist art is relatively respectful and beautiful, and of important historical and documentary value, so much so, that today, Middle Eastern collectors are crazy about buying art from this period.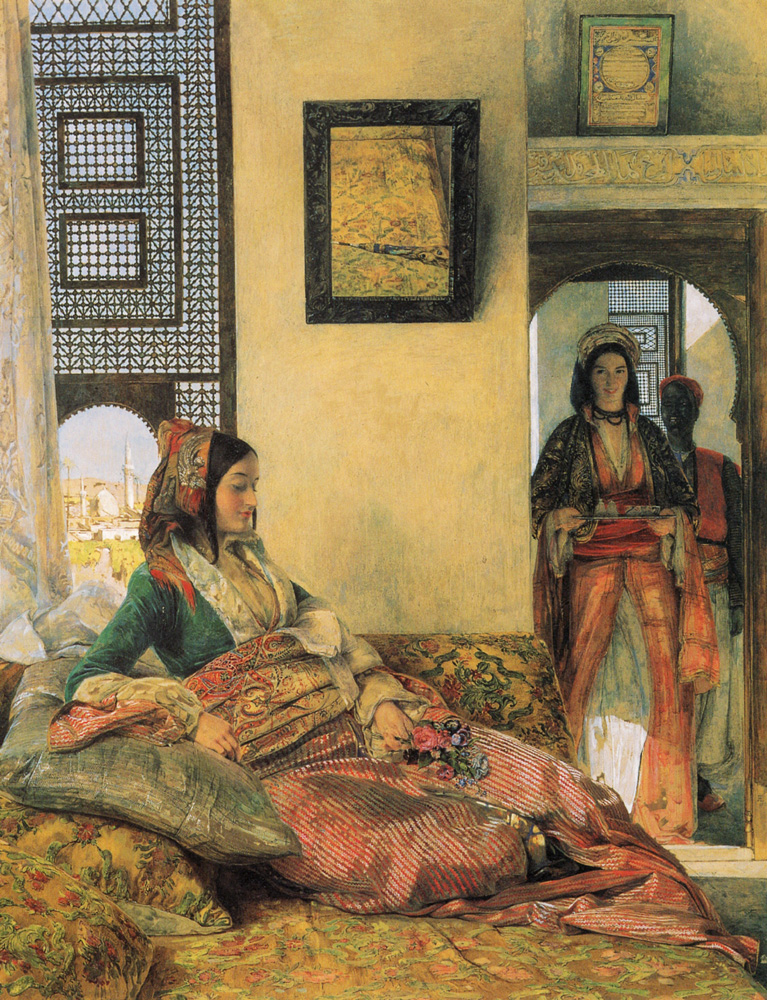 John Frederick Lewis
Lawrence Alma-Tadema
Thomas Francis Dicksee
David Roberts
Gustav Bauernfiend
Sir Joshua Reynolds
Eugene Delacroix
Gerome
Gerome
Rudolph Ernst
Rudolph Ernst
John Frederick Lewis
Frederick Arthur Bridgman
John Frederick Lewis